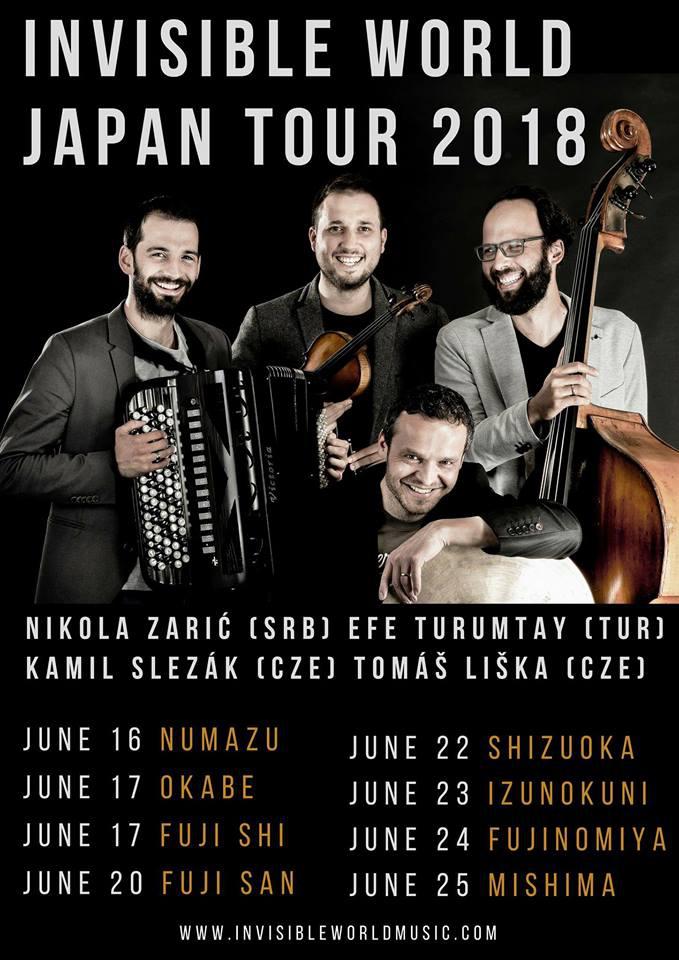 Invisible World on tour in Japan!
TOMÁŠ LIŠKA´s INVISIBLE WORLD QUARTET, a truly unique venture within the landscape of contemporary Czech music is now heading for Japan!
After having performed on world and jazz festivals across Europe and having received the audience award at the international showcase conference Czech Music Crossroads last year as well as the nomination for the Czech Music Academy Award for the best album of 2017, the quartet will give 8 concerts in Japan between June 16 and 25.
Invisible World Quartet is a group of musicians with different musical roots (EFE TURUMTAY from Turkey on violin, NIKOLA ZARIC from Serbia on accordion, KAMIL SLEZÁK from Czech Republic on drums and TOMÁŠ LIŠKA from Czech Republic on upright bass.). Their album INVISIBLE FACES recorded in 2017 comprises Tomáš Liška's own compositions that combine elements of jazz, chamber music and world music from the Mediterranean and South-Eastern regions of the European continent. The album revisits the style and sound of Tomas's previous successful project INVISIBLE WORLD from 2009 recorded with the award-winning guitarist David Dorůžka and Italian bandoneonist Daniele di Bonaventura.
Both albums are available in our online store (incl. free samples).